In 1946, the deprivations of the war years were not far from anyone's thoughts and budget. The power that women had gained in the past handful of years could still be felt in strong shoulders and trouser styles. Particularly in the hands of Parisian designers, there were styles presaging The New Look, including prints, colors, length, and extravagance. American designers devoted themselves to fashionable sportswear. Swimwear found fresh new directions.
I love the fashions of 1946. My appreciation doesn't have so much to do with what was incubating in France. Instead, I am fascinated by the strength and freedom in women's fashion, whether emanating from France or the U.S. It was the last hurrah of the war years styles, and in the best hands this fashion—on the verge of something very different—was fresh, modern and bold.
Women served invaluably during the war, and in this immediately post-war period, clothing reflected their collective strength with tailored, clean, well-accessorized looks for day and work.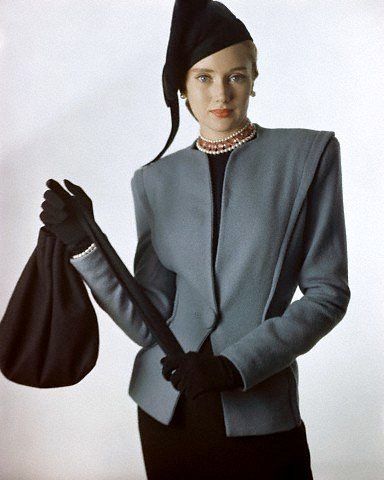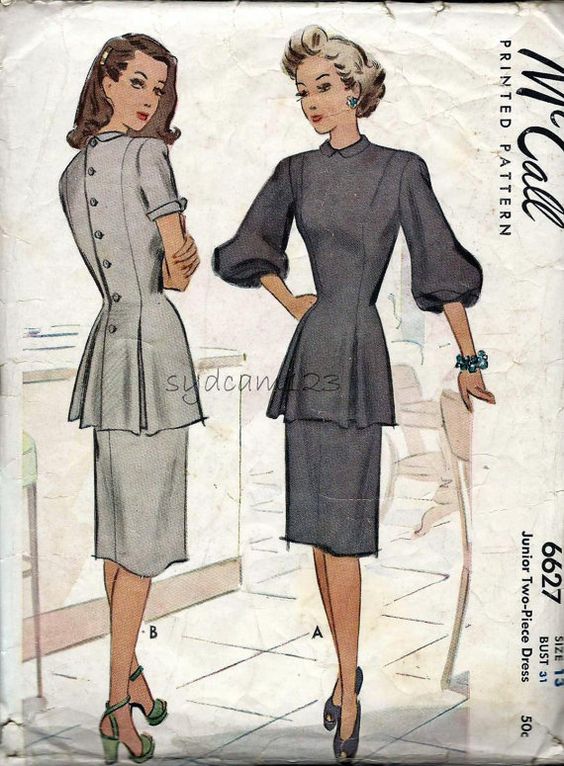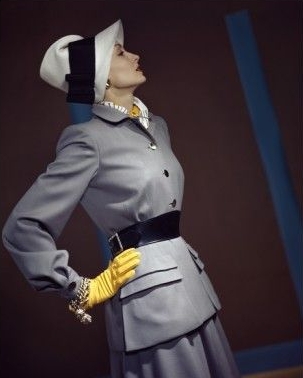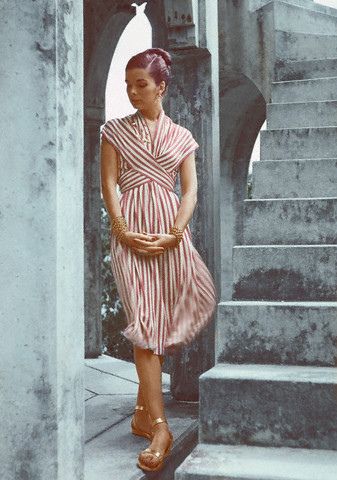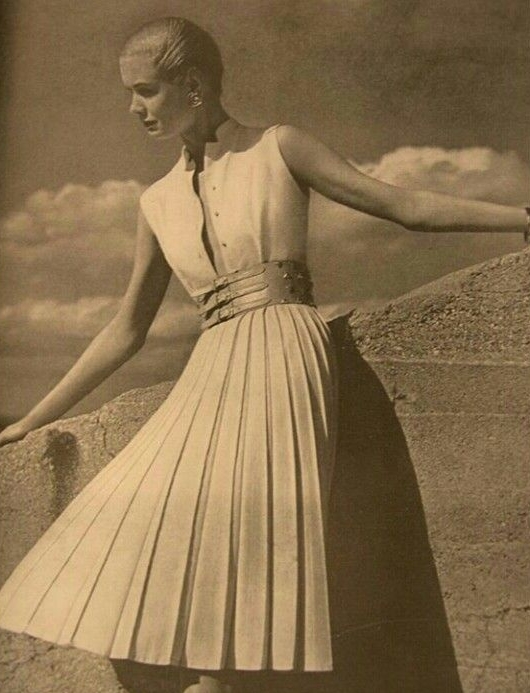 March 1946 Vogue cover, photo by John Rawlings
Collarless, grey wool jacket worn with an Amrose beret hat, black gloves and hobo purse, photo by Clifford Coffin
March 1946 Vogue, Mrs. Stanley Grafton Mortimer, Jr., (aka Babe Paley), wearing a blue and black dress from Traina-Norell, photo by Horst P. Horst
Norman Parkinson Fashion study in doorway, March 1946
Leopard hat cold weather elegance, photo by Constantin Joffé
McCall pattern 6627
Model wearing belted fitted gray suit, a Vogue Couturier design, February 1946, photo by Horst P. Horst
Nina Leen photo
Dress by Mildred Orrick
Dorian Leigh, June 1946, photo by John Rawlings
B.H. Wragge dress
By contrast peasant looks—ruffled, midriff-bearing, and feminine—made a softer impression for casual wear.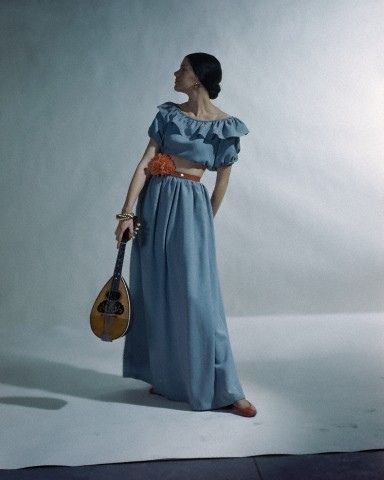 May 1946 Charm cover, photo by Jon Abbot
The young Marilyn Monroe
Photo by Constantin Joffe
High school girls in Phoenix model frilly skirts and blouses in October 1946
Swimwear by Jacques Fath and Carven
Shoulders reached an apotheosis, never (not even in the 1980s) to be so large again.
Morry Silver Originals coat
Awning-striped dress, Everfast ad, photo by Plucer
January 1946 Vogue advertisement, Adele Simpson outfit
February 1946 Charm cover, photo by Jon Abbot
Forstmann ad
Harzfeld's ad, dress by Herbert Soundheim
At the same time, shoulders were often bared for the classically elegant evening gowns of the year.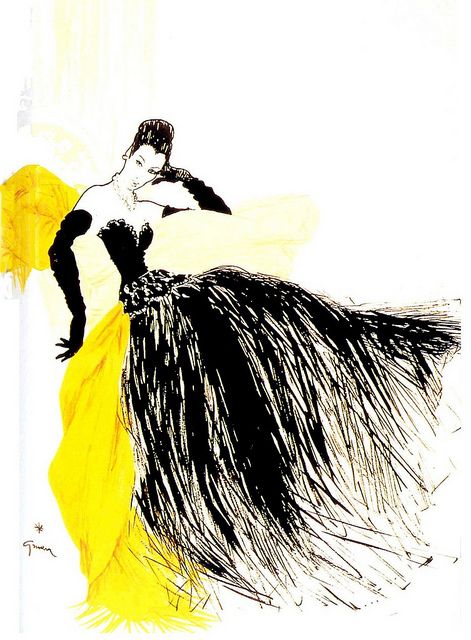 Carmen dell'Orefice, photo by Erwin Blumenfeld for Vogue
Two silk satin evening gowns by Charles James
Dorian Leigh wearing a dress by Traina-Norell
Charles James dress, Met Museum collection
November 15 1946 Vogue, Barbara "Babe" Cushing Mortimer Paley, dress by Paquin, jewelry by Van Cleef & Arpels, photo by John Rawlings
Photo by Gjon Mili
Moyen ad, photo by George Platt Lynes
Balenciaga
Balmain
Photo by Nina Leen
Victory rolls were a thing of the past, and long hair, whether worn loosely or sleekly piled high, was in vogue. Hats could be either over-the-top flamboyant or neat and rather handsome—a microcosm of the fashion extremes of the year.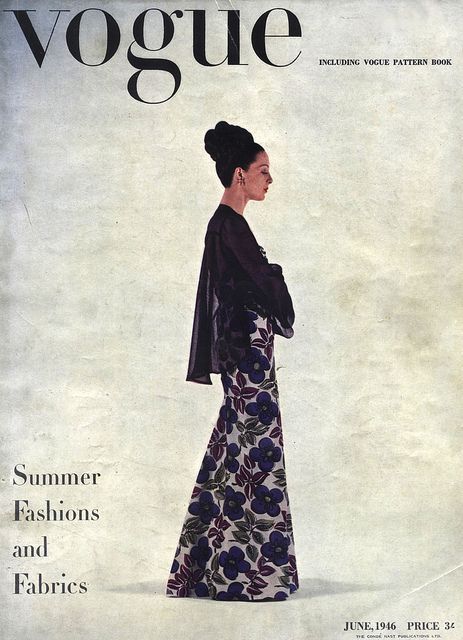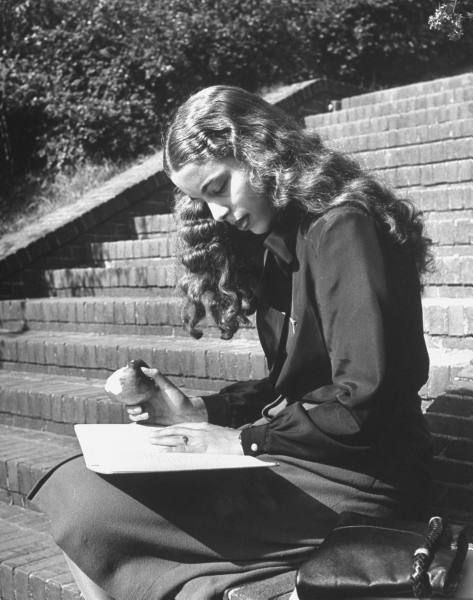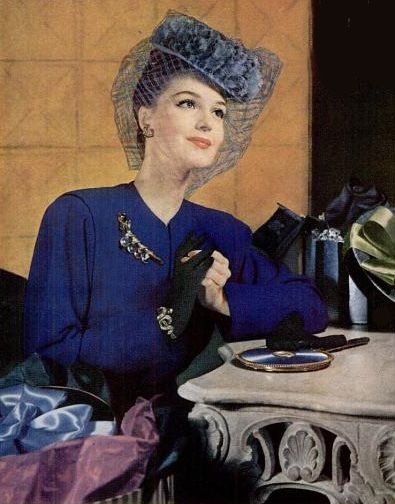 June 1946 Vogue
October 1946 Elle, Paulette hat
Howard University student on campus
January 1946 Vogue, photo by Clifford Coffin
October 1946 Charm
October 1946 Vogue, photo by John Rawlings
Mademoiselle, cloche hat
Ad for The Broadway, Sondheim dress, hat by Sally Victor
March 1946 Vogue, photo by Horst P. Horst
Eileen McClory modeling Nelly Don
'Royal blue daywear elegance'
Madame Paulette, Paris, veiled hat
Shoes ranged from flat and remarkably bare to tall and sleek. Grecian-style lacings were on trend.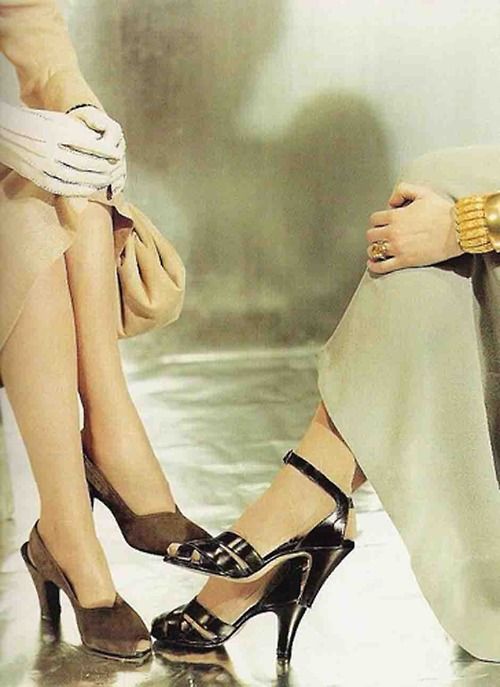 June 1946, white high-lacing sandals from Delman and sheer stockings from Artcraft
"Make a fashion-point of leg-tan by wearing matched-tan leather sandals and, perversely, cover your arms to the wrist." May 1, 1946 Vogue, photo by John Rawlings
Footwear, 1946
Boris Lipnitzki/Roger-Viollet
Lauren Bacall
September 1946 Vogue, Baroness Reutern models her Italian thong sandals
With all the beachwear shown in 1946 you might think it was an exceptionally warm year, but it wasn't. Instead, as Le Figaro wrote, "People were craving the simple pleasures of the sea and the sun. For women, wearing a bikini signaled a kind of second liberation. There was really nothing sexual about this. It was instead a celebration of freedom and a return to the joys in life." (quoted by Elizabeth D. Hoover in 60 Years of Bikinis)
The bikini was so named on July 5 of 1946, four days after the Bikini Atoll became the site of the first peacetime nuclear weapons test by the U.S. Louis Réard said he named his version of the revealing suit because it was "small and devastating" ...like a nuclear weapon. Playsuits, sundresses and swimsuits stated loud and clear that the war was over, and the joy of going to the beach was back.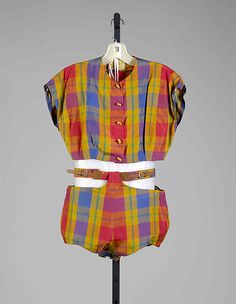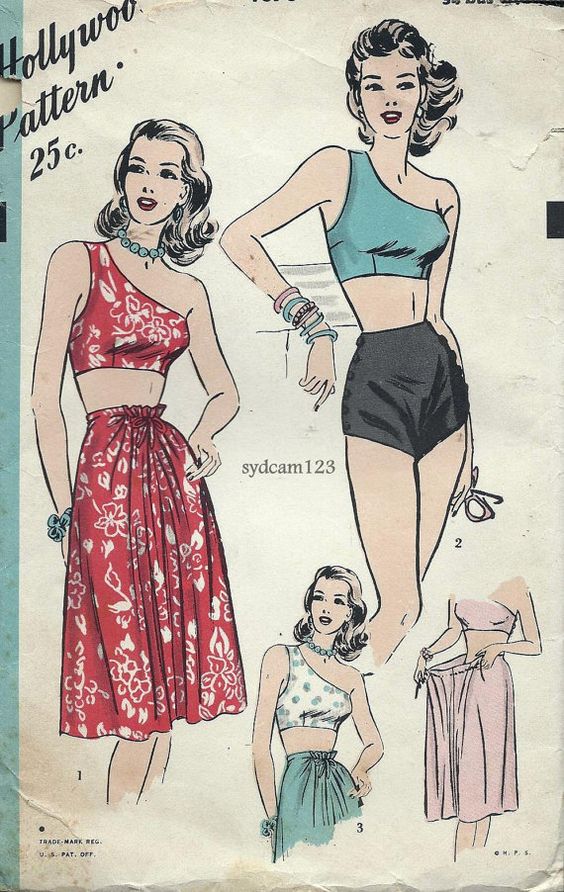 Jacques Heim's version of the bikini, the "Atome"
Swimwear fashions, photo by Nina Leen
1946 pattern
Playsuit by Bonnie Cashin, Met Museum collection
Erwin Blumenfeld, Untitled for Vogue
Hollywood Pattern 1870
February 1946 The Californian
Leisure clearly was a theme in fashion, and central to women's off-work fun was trouser dressing.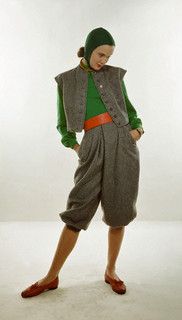 August 1946 Junior Bazaar, photo by Herman Landshoff
January 1946 Vogue, Clare Potter design, Cohama Fabrics ad
August 1946 Junior Bazaar, photo by Herman Landshoff
Model is wearing a grey wool flannel knickers and vest by Winthrop Mills, photo by Serge Balkin
Model is wearing red, white and blue rayon gabardine slack suit with a bolero by Arrowhead, photo by Constantin Joffe
Really, it was a great time to be Claire McCardell. The American designer always came to fashion with women's comfort, freedom and movement in mind. In 1946 she gave women classic, unfussy gowns, elegantly practical workwear, and brilliant sunsuits and swimwear. Show women of today McCardell's designs from 71 years ago and they are likely to be surprised at the year...and wish they could wear the very same clothes now!
Drawstring dress by Claire McCardell, photo by Louise Dahl-Wolfe
Beachwear by Claire McCardell, photo by Louise Dahl-Wolfe
Summer Dresses by Claire McCardell, photo by Genevieve Naylor
Met Museum collection
Corbis image
Corbis image
Trousers Set by Claire McCardell, photo by Serge Balkin